Japanese Hand Planes – The Workings and Wonder of Kanna, by Jay van Arsdale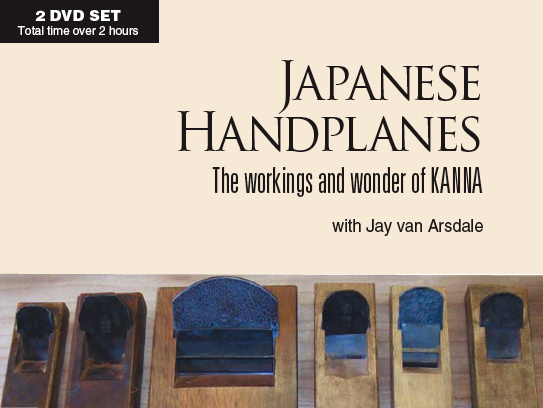 Price: $50.00 USD + $6 USD regular shipping (or $10 USD for international shipping). Click the buttons below to order through PayPal, or contact us for other types of payment. This 2 DVD set includes over 2 hours of instruction about the ideas and working concepts for setting up and using wooden-bodied Japanese planes called "kanna". Starting with a brief introduction of the tools used for working lumber into boards prior to the invention of Japanese pull planes, the chona, yari-ganna, and Chinese push planes are outlined. Also discussed are the different grades of planes – roughing, smoothing and burnishing, including a discussion of the use of different angles of blade in the block, and beam planes used in Japan.
In real time, viewers are taken through all the basic steps and adjustments usually necessary for using and maximizing the results with this tool. The core of the presentation is the adjustments needed to be made in a new plane before it can be used properly. Topics also thoroughly covered are sharpening the blade, relationships of the parts of the plane, adjusting the sole of the "dai" (the wooden plane body), and guidelines for setting the blade for effective planing. This presentation concludes with an important section on Ura Dashi, tapping out the hollow grind and re-establishing the 'land' on the top side of the blade which is lost during the continued sharpening process.